Potensic D58 Detailed Review: Pros, Cons & Specs (2023)
Welcome to this review of the Potensic D58 drone! In this article, we'll take a closer look at the features, performance, and overall user experience of this popular quadcopter.
The Potensic D58 is a mid-range drone that offers a lot of features for its price point. With a 1080p camera, GPS capabilities, and a range of up to 500 meters, this drone is suitable for both beginners and more experienced pilots. So, let's dive in and see what the Potensic D58 has to offer!
Potensic D58 Specifications
| Specs | Details |
| --- | --- |
| Flight time | About 18 Minutes |
| Range | About 500 meter |
| Camera | HD 1080p HD with 120 degrees |
| Speed | 50 km/h |
| Dimension | 325 × 325 × 140mm |
| Weight | 230 gram |
| Battery | 7.4V 1120mAh |
| Charging time | Not Included |
| Advanced features | One Key Return / Waypoint / Follow me / GPS Assisted / Altitude Hold |
Flight time
Flight time is an important factor to consider when choosing a drone. The 18-minute flight time of the Potensic D58 drone allows you to enjoy extended flying sessions without the need for frequent battery changes.
It's important to note that flight time can vary depending on factors such as flying conditions, altitude, and temperature. However, the Potensic D58's flight time is quite respectable for a drone of its price range.
Flight range
The 500-meter range of the Potensic D58 drone is impressive and makes it ideal for exploring expansive landscapes or capturing aerial footage from a safe distance.
However, it's important to keep in mind that the range can be affected by environmental factors such as wind, obstacles, and signal interference. Always be sure to fly your drone within your visual line of sight and avoid flying in restricted areas or near airports.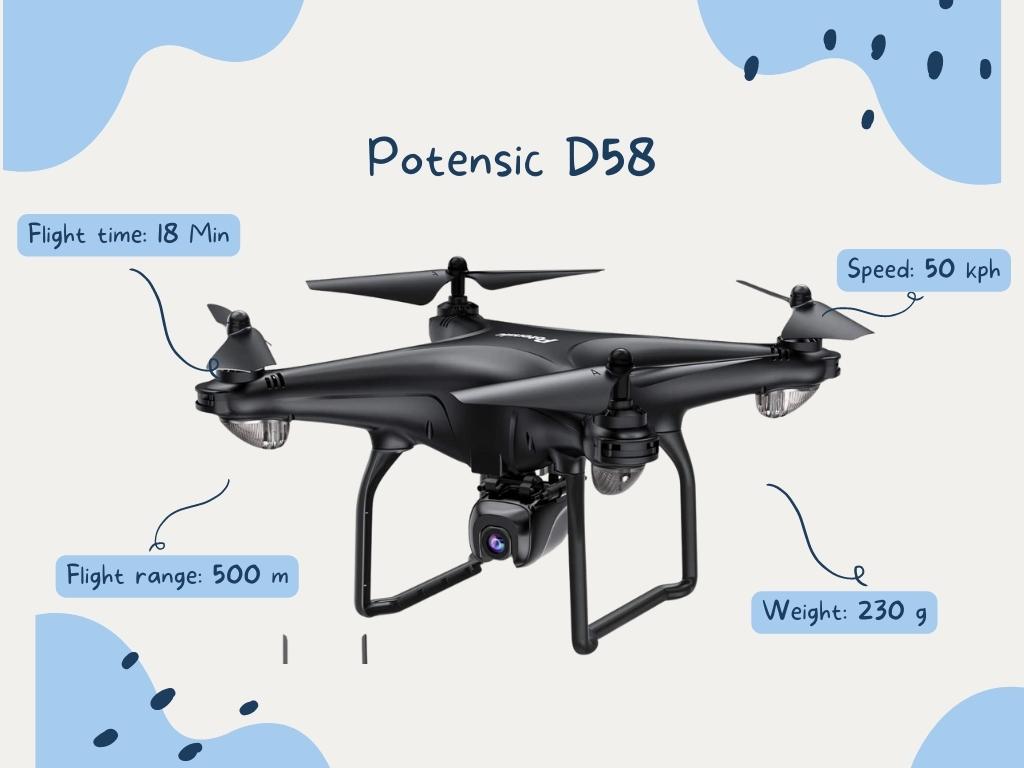 Also Read: Drone Range: Find out How Far Can a Drone Fly?
Camera
The Potensic D58's 1080p HD camera with a 120-degree field of view offers sharp, clear images and videos. The adjustable camera tilt function lets you capture the perfect angle for your shot.
It's important to note that weather conditions and lighting can affect the camera's performance. The Potensic D58's camera suits beginner and intermediate drone pilots looking to capture stunning aerial shots and videos.
Speed
The Potensic D58 drone's top speed of 50km/h allows it to capture fast-moving objects and gives you the freedom to experiment with different flight modes.
However, flying at high speeds can also impact stability, making it important to practice and master your piloting skills at lower speeds first.
You May Like It: Buy Worlds Fastest Drones
Size and Weight
The Potensic D58 drone's compact size of 325 × 325 × 140mm makes it easy to carry around in a backpack or a travel case. Its foldable design makes it even more convenient to pack and transport. Its small size also makes it possible to fly in confined spaces, making it ideal for indoor flying sessions.
The Potensic D58 drone's weight of 230 grams is another advantage, making it lightweight and easy to handle during flight. Its light weight also contributes to its overall agility and allows for longer flight times.
Battery
The Potensic D58 drone is powered by a 7.4V 1120mAh modular battery, which provides a flight time of up to 18 minutes per charge. The battery can be easily removed and replaced, allowing for extended flight time with spare batteries. It also features a built-in overcharge and discharge protection system to ensure safe and efficient operation.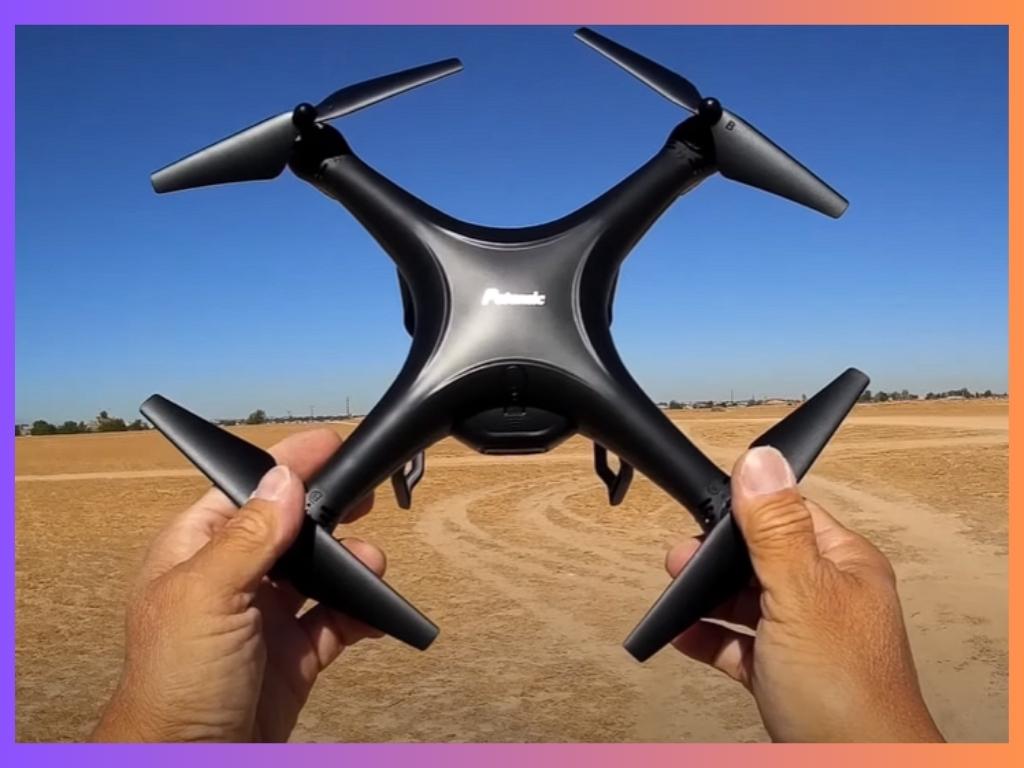 Also, Check: Drone Roof Inspection Cost
Advanced features of Potensic D58
The Potensic D58 is a high-performance drone that comes equipped with a range of advanced features designed to enhance your flying experience. Some of the advanced features of the Potensic D58 include the following:
GPS Navigation System: The Potensic D58 features a GPS navigation system that allows the drone to maintain its position and altitude, making it easier to fly and control.
Follow Me Mode: The Follow Me mode is an advanced feature that allows the Potensic D58 to follow you wherever you go. This is ideal for capturing outdoor adventures or sporting events.
Return to Home: The Potensic D58 comes with a Return to Home feature that allows the drone to return to its take-off point automatically. This is useful in case the drone loses its signal or runs out of battery.
Altitude Hold: The Altitude Hold feature enables the drone to maintain a steady altitude, which is especially useful when taking photos or videos.
Headless Mode: The Headless Mode feature allows the drone to move in any direction, regardless of its orientation. This makes it easier to control the drone, especially for beginners.
One-Key Takeoff/Landing: The One-Key Takeoff/Landing feature allows the Potensic D58 to take off and land with the push of a button, making it easier to operate.
Also, Check: 10 Best Drones Under $400: Detailed Review
Pros and Cons of Potensic D58
The Potensic D58 drone has several advantages and disadvantages, which are important to consider before making a purchase.
Pros
Easy to use
High-quality camera
Stable flight
Good range
CONS
No obstacle avoidance
Limited camera control
Battery life
Final Thoughts
In conclusion, the Potensic D58 drone is a solid choice for beginners looking for an affordable drone with a good camera and decent flight time. It's easy to operate, stable in flight, and has a good control range. However, it lacks some advanced features like obstacle avoidance and follow-me mode, and its camera control is limited.
Our personal thoughts regarding this product are that if you're looking for a budget-friendly drone that can take good-quality aerial footage, the Potensic D58 is a great option to consider.
Thank you for considering our thoughts on the Potensic D58 drone. We hope our insights have been helpful in your decision-making process.