Potensic Dreamer Pro Detailed Review (2023)
Updated On: October 22, 2023
You may have heard whispers or perhaps seen others flying this high-tech beauty already. The time has come to really dig deep into the actual worth and performance of one of the most talked-about drones in recent times. Yes, you guessed it right; I'm about to present my thorough Potensic Dreamer Pro drone review. Hold onto your hats - it's going to be a wild ride!
Why should you trust me? Well, let me tell you that when it comes to drones, I've been around the block more than once. From palm-sized quadcopters zipping around my living room to heavy-duty gear capturing awe-inspiring aerial shots on my adventures, there aren't many companions in the sky I've not taken for a whirl. But enough about me - let's cut to what you're here for - an in-depth look at this powerhouse called Potensic Dreamer Pro.
What You'll Unearth From This Post
An unbiased and objective analysis of the Potensic Dreamer Pro drone
Detailed breakdown of features and specifications
Real-world performance insight of Potensic Dreamer Pro
Are there better alternatives?
Understanding if Potensic Dreamer Pro is right for you.
An Overview of Potensic Dreamer Pro
As a drone enthusiast, I've come across various models and brands, each with its unique features and design. Today, my spotlight is on the Potensic Dreamer Pro. To give you an insight into what this drone offers, let's dive straight into its specifications.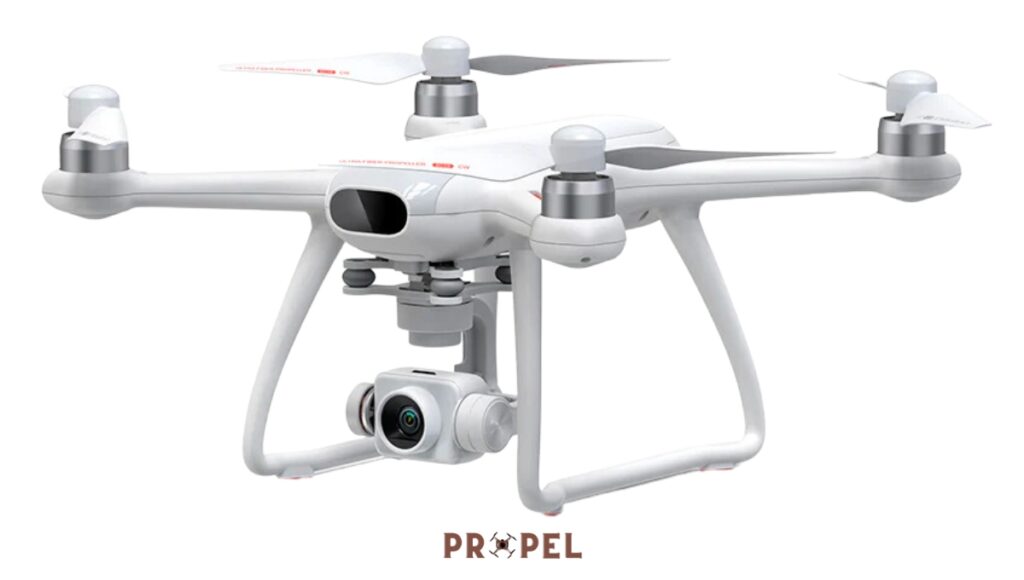 A Closer Look at the Specifications
| Specifications | Details |
| --- | --- |
| Camera | 4K camera with a 3-axis gimbal |
| Camera Specifications | 1/3 CMOS 16MP Sony Sensor |
| Video & Photo Quality | 4608×3456 (image), 3840×2160, 30 FPS (video) |
| Max Flight Time | Up to 28 minutes with one battery |
| Drone Speed | Max Ascent:5m/s; Max Flying:8m/s; Max Descent:2m/s |
| Max FPV Distance | up to 2KM when unobstructed(using PotensicPro app) |
| Size | Dimensions:350 320195mm(13.7 12.597.67 inches) |
| Weight | Approx.820g (FAA registration required) |
| Features | GPS-enabled flight system; brushless motors for power efficiency; live streaming capacity; first-person view(FPV); |
| Flight Modes | Great variety includes one key takeoff/landing; waypoint orbit mode. |
| Wind Resistance | Designed to withstand moderately windy conditions |
| Battery | 15.2V,3000mAh lithium-polymer providing an impressive flight time of about half an hour. |
What Makes Potensic Dreamer Pro Stand Out?
Making your way through drones on the market can be quite a task, and that's where this Potensic Dreamer Pro drone review comes in handy. I had a chance to take the Potensic Dreamer Pro for a spin recently and trust me, it's an absolute hit in every aspect. So, let's dive into its design, build quality, and advanced features.
Also Read: Potensic D58 Review
Design and Build Quality
The design of the Potensic Dreamer Pro immediately catches your eye. It features a sleek, aerodynamic body contour painted in a metallic white color that gives it an unmistakably striking look.
It weighs about 820 grams, which means FAA registration is required before you can take to the skies.
The drone's dimensions measure 350 x 320 x 195mm (13.7 x 12.59 x 7.67 inches), making it compact enough for easy transportation but still large enough to ensure stable flight even in mild wind conditions.
Built with robust materials, this drone can withstand minor crashes and falls without significant damage.
The fine lines and angles of its body emphasize not just aesthetics but also contribute to reducing air resistance during flying sessions.
Keeping up with its outstanding design is its equally impressive build quality, which ensures long-lasting durability.
Advanced Features
What gives the Potensic Dreamer Pro its edge are some exceptional advanced features that are usually found only on premium drones:
Impressive Camera: Harnessing a powerful 4K camera with a three-axis gimbal for stabilization, this quadcopter guarantees detailed images and videos with outstanding clarity. The camera uses a 1/3" Sony Sensor capable of shooting 16 MP photos and recording videos at 3840x2160 resolution, guaranteeing extremely high-detail output.
GPS-Enabled Flight: The GPS features on this drone are highly reliable and offer the convenience of accurate positioning and a superb return home function.
Long Flight Time: One feature that makes the Potensic Dreamer Pro stand out is its exceptional flight time of up to 28 minutes on a single battery charge.
Maximized Speeds: You can reach maximum speeds in various modes - 5m/s in ascent, maintain flight speed at 8m/s, and descent at a top speed of 2m/s.
These features, combined with brushless motors, facilitate smooth flights regardless of whether you're a newbie or an experienced pilot.
Also Read: Best Mapping Drones,
Deep Dive into Potensic Dreamer Pro's Specifications
As a drone enthusiast, I can't help but marvel at the top-notch features packed into the Potensic Dreamer Pro. Not only does this quadcopter deliver excellent flight performance, but its features also include a 4K HD camera and an impressive battery life. Let's dive deeper into these specifications.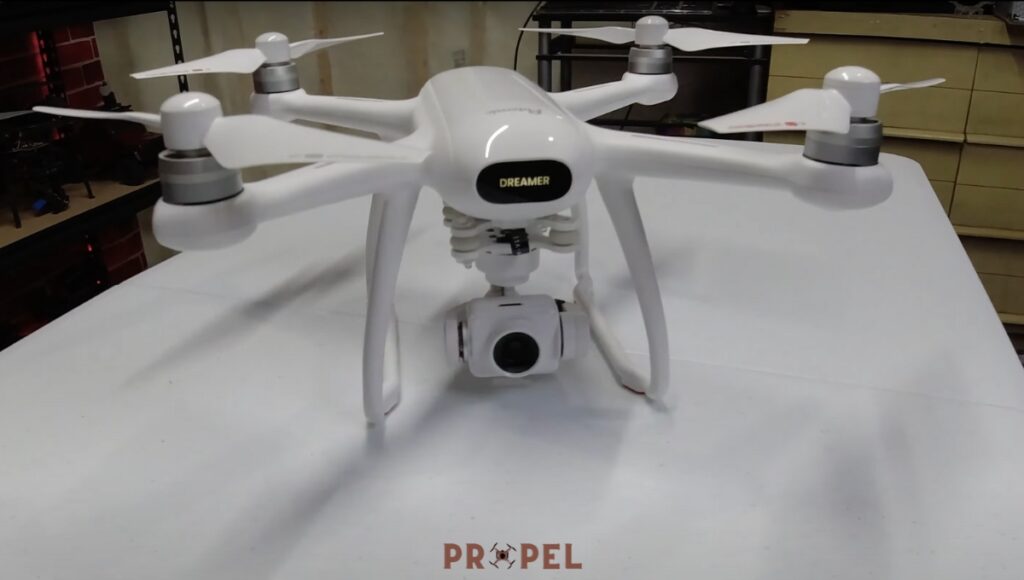 Camera Quality
One of the main reasons that drew me towards the Potensic Dreamer Pro is its high-quality camera. The review can't be complete without acknowledging its top-tier imaging capabilities:
The drone features a 4K camera with a 3-axis gimbal. This ensures stability during flight, reducing blurry images due to vibrations or sudden movements.
Its high-resolution 16MP Sony Sensor captures crisp photos with resolutions soaring up to 4608×3456 pixels.
The video quality isn't anything less impressive either; recording in stunning 3840×2160 resolution at 30 FPS, every footage captured tells a story.
Additionally, it boasts an option for live streaming and FPV (first-person view), allowing you to immerse yourself fully in your flights.
Ultimate image clarity mixed with stability - this truly is a photographer's dream come true!
Battery Life
Beyond capturing breathtaking scenes, you'll want to know how long your drone can stay in the air. Thankfully, Potensic Dreamer Pro doesn't disappoint when it comes to its battery life:
A single battery promises a maximum flight time of up to 28 minutes - longer than what most drones in this range offer.
Although recharging time may vary, my experience has generally been within an acceptable timeframe.
So, whether you're into aerial photography or just enjoy the fly, make sure your batteries are fully charged for the best experience!
Also Read: Autel EVO 2 Pro In-Depth Review
Flight Performance
Let's talk about how well this drone actually flies. Its flight performance and speed capabilities underline why this drone stands tall among its competitors:
The Potensic Dreamer Pro can ascend at an impressive rate of 5m/s, fly at a maximum speed of 8m/s, and descend at a controlled velocity of 2m/s.
With PotensicPro App, you can maneuver the drone at a maximum FPV distance of 2 km when unobstructed.
Its GPS-enabled flights ensure precise navigation and assistance in hovering or returning home when the battery is low or when out of sight.
The brushless motors make it more durable and perform outstandingly in terms of reliability and speed.
It seems that not only does Potensic Dreamer Pro shine in terms of camera quality and battery life, but it also boasts excellent flight performance - making it worth every penny.
Also Read: Best VR Drones
How user-friendly is the Potensic Dreamer Pro drone?
Operating a drone can be intimidating, especially if you're a novice. But the Potensic Dreamer Pro drone is designed for easy use, making it beginner-friendly. Let's delve into its usability and how efficiently its controller performs.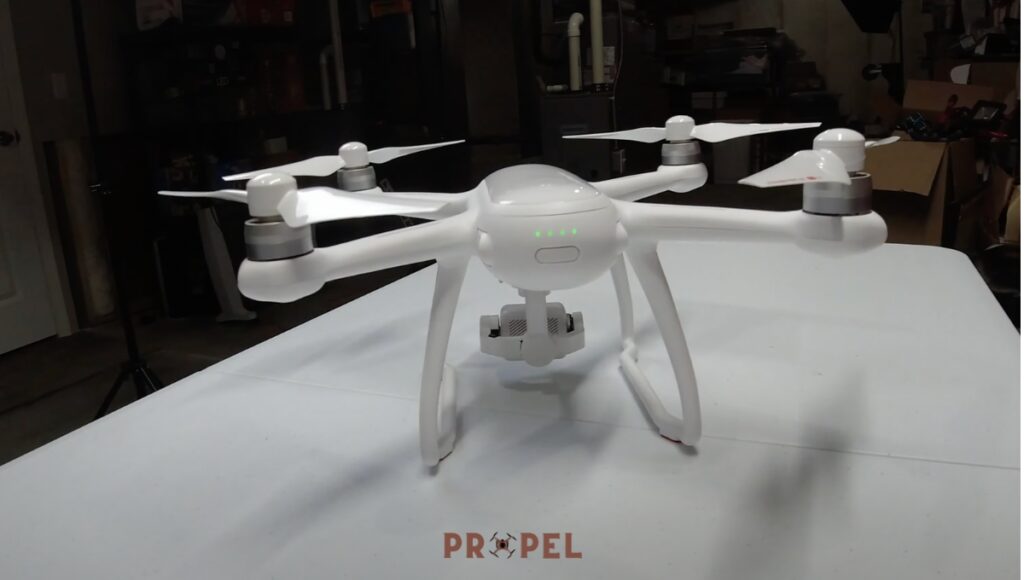 Ease Of Use
The Potensic Dreamer Pro presents itself as an incredibly user-friendly device - even if you have never flown a drone before, this machine is easy to understand and operate. Here are some reasons why:
Beginner Mode: This feature restricts the flying altitude and speed to ensure safety for beginners.
One-Key Take Off/Land: Just press one button, and up it goes. Another push will bring it safely back down.
Smart Return To Home (RTH): This feature allows the drone to return home automatically when the battery is low or the signal gets disconnected.
Headless Mode: No need to worry about orientation - forward will always make the drone move away from you, regardless of which way it's facing.
From setting up to learning flight controls, everything about this quadcopter screams simplicity.
Also Read: Best Drones Under 250 Grams
Controller Efficiency
The Potensic Dreamer Pro controller enhances functionality with its ergonomic design that provides superior handling. Here's what sets it apart:
Clear Display Screen: It features a user-friendly interface that displays vital information such as battery life & GPS status on the go.
Convenient Controls: The sticks for flight control are butter-smooth, coupled with necessary buttons intuitively laid out for ease of access during flight.
Device Holder: The controller has a sturdy clamp to hold your mobile device securely during flight for FPV.
Lengthy Battery life: The remote's battery lasts impressively long, meaning you can fly longer without fear of losing control.
The Potensic Dreamer Pro's controller truly augments the overall flying experience, offering a splendid blend of comfort and practicality.
The Potensic Dreamer Pro drone receives full marks for being user-friendly and proves to be an excellent pick for beginners looking to venture into drone photography or videography. Its simplistic design embodies the principle that less is more - proving that high functionality doesn't necessitate complexity!
Also Read: Best Parrot Drones
Comparing Potensic Dreamer Pro With Similar Drones
When comparing the Potensic Dreamer Pro with similar drones on the market, I take into consideration various factors such as camera quality, flight time, speed, FPV distance, size and weight, and extra features. Let's dive into how it stands against its peers.
Comparison With Competitors
The drone market is certainly packed with a variety of quality options, each having its unique selling points. However, some stand out more than others when drawn parallel to the Potensic Dreamer Pro. Here are a few notable competitors that one might consider:
DJI Mini SE Drone: This drone is popular for its portability and ease of use. Nevertheless, the mini drone fails to compete against the powerful Potensic unit in terms of image resolution and flight time.
Autel EVO Nano: Posing as a formidable competitor with its compact build and advanced features; however, it falls slightly short on FPV distance compared to Potensic's robust 2KM range.
Hubsan Zino Pro Plus: Its impressive camera system gives stiff competition but lags behind in maximum ascent speed.
Without a doubt, different drones cater to different specific customer needs, yet when considering overall performance combined with price point - I'd say it's tough to beat the array of specifications offered by our star performer - The Potensic Dreamer Pro.
Also Read: A Look at The History of Drones
Pros and Cons of Potensic Dreamer Pro
Before I delve into the specific pros and cons of the Potensic Dreamer Pro drone, it's important to remember that no drone is perfect. Even the highest-end devices will have some flaws or drawbacks, much like any electronic gadget. With that in mind, let's explore the specific pros and cons I experienced during my time with this remarkable piece of technology.
Pros
Impressive Camera Quality: The 4K camera on the Potensic Dreamer Pro features a 3-axis gimbal with a 1/3 CMOS Sony Sensor. This translates to some fantastic shots, boasting image quality up to 4608×3456 (image) and video quality up to 3840×2160 at 30 FPS.
Extended Flight Time: One unique feature of this drone is its extended flight capabilities. It can fly for up to 28 minutes on a single battery charge, which surpasses many competitive models that cap out at around twenty minutes.
Optimal Speeds: The speed of this quadcopter is quite impressive as well. With max ascent speeds hitting 5m/s, flying speeds reaching up to 8m/s, and descent capping off at around 2m/s.
Cons
However, no product exists without drawbacks. Despite its standout features, there were certain aspects of this drone I thought could use improvement:
Weight: The Potensic Dreamer Pro is definitely on the heavier side for drones, coming in at about 820g. This doesn't make it the most portable option, and it does require FAA registration due to its weight.
Limited FPV Distance: Although 2 seems like a lot, this FPV distance only applies in perfect, unobstructed conditions using the PotensicPro app. In more realistic scenarios, the drone struggles to offer a seamless FPV experience beyond 1.
Now that you're aware of both sides of the coin in this Potensic Dreamer Pro drone review, you can make an informed decision on whether or not this device is for you. Always remember to ascertain your specific needs for a drone before taking the plunge into purchasing one.
Who Should Consider Buying The Potensic Dreamer Pro?
As we navigate through my Potensic Dreamer Pro drone review, it's clear that this piece of tech isn't just for anyone. Given its specifications and features, it caters to a certain group of drone enthusiasts and professionals. So, who are the ideal users?
Ideal Users
Potential buyers of the Potensic Dreamer Pro fall into different categories. Let's dive in and discuss who will benefit most from owning this drone:
Professional Photographers: The Potensic Dreamer Pro is equipped with a top-tier 4K camera that employs a 1/3 CMOS 16MP Sony Sensor. Its capability to capture image resolution at 4608×3456 and videos at 3840×2160, 30 FPS makes this an incredibly appealing device for professional photographers needing high-quality aerial images or videos.
Adventure Enthusiasts: If you're someone who loves outdoor adventures, then this might be your best companion yet. With its max flight time of up to 28 minutes on one battery charge, you can immortalize every exhilarating moment without worrying about losing juice mid-flight! This also makes it great for travel bloggers or extreme sports individuals who require quality footage from breathtaking perspectives.
Drone Racing Fanatics: The drone's max speed is another feature worth mentioning; soaring at a maximum ascent speed of 5m/s or flying speed of up to 8m/s, racers will get their adrenaline fix chasing after this fast flyer!
Tech Hobbyists: Interested in exploring new tech? Then you'll love tinkering with the PotensicPro app's functionality, which provides live streaming options directly from the drone - up to an impressive unobstructed distance of approximately two kilometers!
The Potensic Dreamer Pro is more suited to professionals and hobbyists who need high-quality imagery or live streaming capabilities. Whether you're a seasoned professional photographer or just an adventurer with an insatiable appetite for capturing memories from unique perspectives, this drone has you covered!
Through my Potensic Dreamer Pro drone review, I've established that it's not your average toy drone - it's a serious piece of technology built with robust capabilities and features that meet professional and recreational demands.
Also Read: How to spot a drone at night?
Maintaining Your Potensic Dreamer Pro
If you have recently gotten your hands on a Potensic Dreamer Pro, congratulations! You now own one of the most technologically advanced quadcopters available in the market. Just as it is with any prized possession, it requires tender loving care to ensure its longevity and optimal performance. Below are some crucial maintenance tips I've gathered throughout my flight journey that would be valuable to your drone care routine.
Maintenance Tips
Learning how to properly maintain your brand-new Potensic Dreamer Pro can essentially prolong its lifespan and make each of your drone-flying experiences a pleasurable one. From understanding the guidelines of battery maintenance to tackling cleaning procedures, each task plays an integral part in keeping your drone in tip-top shape.
Battery Care
The heart of any device lies within its power source—its battery. Poor battery habits could lead to reduced flight sessions or even damage:
Avoid overcharging: Constant overcharging can deteriorate the overall health of your battery.
Store properly: If not being used for an extended period, store at around 60% charge level.
Monitor conditions because extreme temperatures can affect battery health negatively.
Regular Cleaning
Like any other machine, dust, and dirt can cause wear and tear:
Use a soft brush or compressed air canister for dust removal.
Pay attention to vents and rotors where debris tends to accumulate.
Firmware Updates
Never overlook firmware updates—they often come with bug fixes and improved features:
Always update when prompt appears—this indicates that manufacturers have optimized software performance.
Pre-Flight Checks
Before excitement takes over, perform mandatory pre-flight checks:
Check propellers for cracks or damage.
Ensure the GPS signal is strong enough for safe flying.
Post-Flight Assessment
Post-flight routines are just as important:
Turn it off before starting any checks.
Look out for any visible damage after a flight.
Utilizing these maintenance tips can significantly enhance the performance of your Potensic Dreamer Pro drone and ensure its longevity. With proper care and regular checks, you're geared up for many more amazing flights!
Conclusion
There's no doubt that the Potensic Dreamer Pro drone is a remarkable piece of technology. The incredible flight time of up to 28 minutes, matched with a high-speed ascent and descent rate, makes this drone something truly exceptional. The pairing of 4K camera quality with high-resolution still image capturing ability ensures that photographers and videographers can capture stunning footage in diverse environments.
Key Takeaway Points
4K Camera Quality: The drone provides top-tier visual data acquisition.
Maximum Flying Speed: Operates at agile speeds for impressive maneuvering capabilities.
Impressive Flight Time: Capable of extended missions due to impressive battery life.
FPV Distance: Live streaming ability lets you see the world from new angles.