DJI Phantom 3 vs Phantom 2: Best Detailed Comparison (2023)
Updated On: January 1, 2022
There has been a debate about the improvements made in DJI Phantom 3 over the Phantom 2 since the launch of the DJI Phanom 3 drone. As every other phantom version has been marked by an improvement of the camera, phantom 3 has also brought a better camera and a longer range for wifi connection.
Many users argue that phantom 3 has made phantom 2 obsolete. There are people who still think phantom 2 is more than enough for their needs because of the price difference between phantom 2 and phantom 3.
As Phantom 2 was first released in 2013, it will be more expensive to purchase now compared with the more recent Phantom 3 due to the drop of its initial price after its release.
If you go into the details, the durability and performance of phantom 3 are the same as phantom 2. Phantom 3 has a more manageable design, with its slim body and new propellers, which make it lighter than Phantom2.
DJI Phantom 3 vs Phantom 2: Specs Comparision
To better understand what each phantom version has to offer, the main differences are listed below,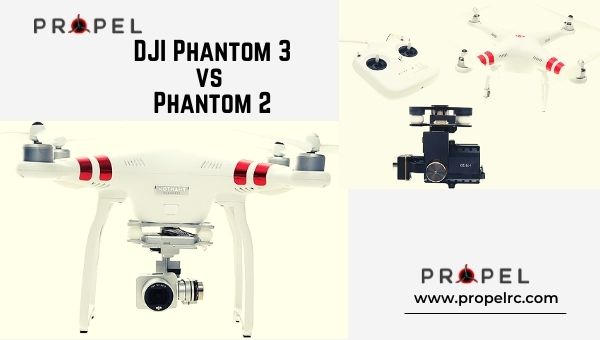 Flight Time
DJI has not made any improvements in regard to phantom 3 fly time compared to phantom 2. Although phantom 3 is equipped with a powerful, intelligent battery that helps in prolonging the flight time, it can only stay up in the air for about 25 minutes, while phantom 2 also can fly around 25 minutes.
The flight time of both aircraft is good enough for filming or aerial photography. The Phantom 3 can fly 1 mile further than Phantom 2 due to its upgraded wifi antennae.
Both drones can be used by professionals who need to fly over a bigger distance, as phantom 3 has a higher transmission power. Both drones get the same points in flight time.
Flight Range
It is one of the most important aspects to consider when choosing a drone. The Phantom 2 has a flying range of 1000 meters (1km) at maximum altitude, while the Phantom 3 can also reach up to 1000 meters (550 yards).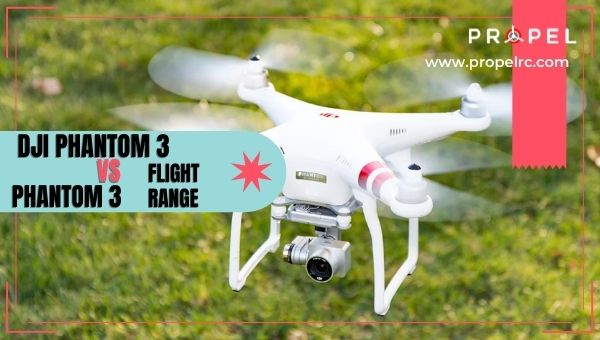 The drone's transmission range is limited by the remote controller; The drones are programmed to transmit the live video feed until it loses contact with the controller at a maximum range of 1000 meters (1km).
After this point, the drone will continue to fly and record video until it reaches its flight termination settings, causing it to either stop flying and return home automatically or continue to fly until no more power is left.
Camera resolution
The main difference between the cameras of Phantom 2 and Phantom 3 is the resolution. The Phantom 2 comes with a 14-megapixel camera which gives an average of 2592 x 1944 pixels, while the new Phantom 3 standard edition has a 12.4-megapixel camera providing images in 4000x3000 pixels per photo, this cannot be compared to professional cameras, but you can get decent photos out of it.
DJI Phantom 3 Standard Quadcopter Drone with 2.7K...
Refer the user manual and videos on this page for troubleshooting.Enjoy the view: A live video...
View a live image streamed from the drone up to a half mile away on the DJI Go app using your...
GPS assisted flight features let you concentrate on getting great images while the drone helps...
Fly up to 25 minutes with the included intelligent battery. A range of accessories is...
Both drones also have their own light bridge technology that allows live video transmission with high image quality at long distances.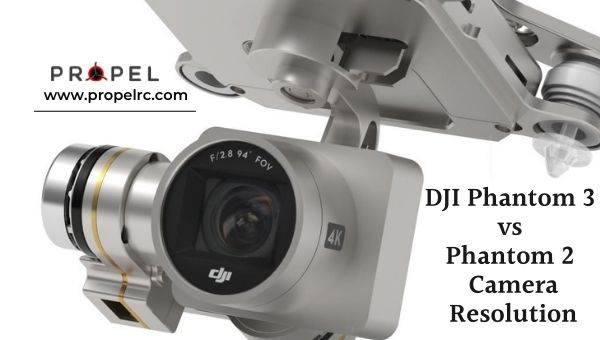 Taking into account that both drones are equipped with 720p HD video streaming capabilities for FPV flights - no need for goggles, in case you were wondering! Image quality was considered by DJI when they released the new editions of Phantom 2 and 3.
If you want high-resolution photos and videos with high quality, then go for the Phantom 3.
Weight and size
Both drones have a similar weight, which makes them very portable compared to other drones on the market. The main difference between Phantom 2 and 3 is that the Phantom 3 is slimmer than its predecessor, while the other dimensions remain unchanged.
This slim design makes it easier to carry since it can fit in your backpack without any issues. The only concern you might have with space is when you decide to purchase extra propellers or batteries for extended flight time.
DJI Phantom 2 Quadcopter V2.0 Bundle, 3-Axis...
Fun flying by itself or even better with a GoPro to record the action
The latest Phantom 2 comes with the new remote controller, new propulsion system and new...
The Zen muse H4-3D gimbal is included in this bundle and requires installation and calibration...
A GoPro camera is not included; please purchase a GoPro Hero4 Black Edition to utilize the...
The Phantom 2 weighs 1000 grams, whereas the Phantom 3 weighs 1261 grams. The weight of a drone is a big factor to consider since it affects the performance and flight time, but both models are lightweight compared to other drones on the market.
If you need an easy-to-carry method for capturing aerial shots, then either model will serve you well.
Both drones have a great portability design that will not cause any problems during transportation. However, if you want to take aerial videos while walking, then choose phantom 3 because of its smaller size and lighter weight.
Controls
Both drones can be easily controlled by hand gestures or through the controller, which allows you to control the camera movements. The newest edition of the Phantom 3 series features new video transmission technology with live streaming capabilities.
This means that you can see what your drone sees in real-time on your smartphone screen.
The DJI Phantom 2 works on a 2.4GHz ISM operating frequency, while the DJI Phantom 3 works on a 5.8GHz ISM operating frequency, which is great for FPV flights.
The controller has an operational range of up to 1000 meters (3,280 feet), but this depends on your surroundings and your environment - keep in mind that some drones' controllers can interfere with each other's frequencies.
Phantom 2 Vision+ is very similar to its successor when it comes to controls, but keep in mind that newer editions have an upgraded wifi antenna and a longer battery life.
Flying modes
Both drones possess intelligent flight modes that allow you to fly the drone with ease. The DJI Phantom 2 can be flown in Positioning Mode (P-mode) with an Intelligent Orientation Control system (IOC).
There are three different maneuvers with IOC-enabled flight; these maneuvers are Course Lock, Home Lock, and Stabilized Idle. Stabilized Idle allows for smooth photos at a constant distance and position, whereas Course Lock keeps the current direction locked no matter how the drone is oriented.
This is great if you want to capture photos or videos of yourself while flying your drone. You can also fly in Attitude Mode (A-mode) if you want more control over the pitch and roll of the drone.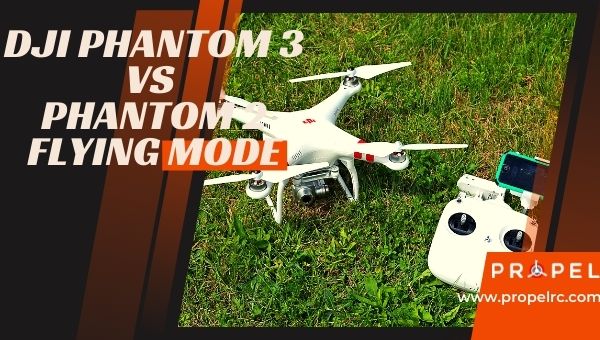 The DJI Phantom 3 Advanced and Professional work on a similar Intelligent Orientation Control system, which allows for a more stable flight.
Both drones have a GPS navigation system with GLONASS support, so it's very difficult to lose your drone in mid-air.
The Phantom 3 series features an upgraded Lightbridge technology that allows for live HD streaming from up to 1000 meters away from your location - which is great for aerial videography or photos at long distances!
Also Read: DJI Spark vs. Yuneec Breeze: Detailed Comparison
Both drones come with the same GPS system, which allows for an easy way of navigation.
The Phantom 2 Vision+ has a built-in camera that uses the GLONASS satellite connection to obtain more precise positioning information. However, it can be difficult to fly your drone in some directions due to windy conditions or low speeds, but this depends on your experience level and skills.
The DJI Phantom 3 Advanced and Professional have all the necessary sensors equipped - including a barometric pressure sensor, three-axis gyroscope, accelerometer, and compass - so flying these drones is much easier than before.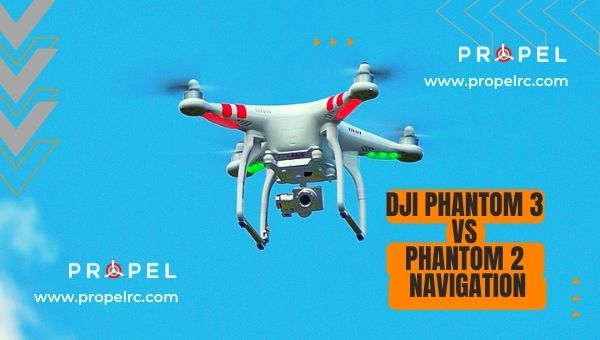 Both the Phantom 2 series and Phantom 3 series are great drones for beginners who are new to aerial photography or videography because they are easily controlled.
The Phantom 3 series has a number of intelligent flight modes such as Follow Me and Point-of-Interest, which allow you to focus on other tasks while your drone is in the air capturing footage for you.
Performance
The Phantom 2 is more stable in flight; it has an altitude hold function which helps the aircraft stay stationary at a certain height without any human interference. However, Phantom 3's assisted GPS feature makes it even more stable and accurate.
Phantom 2 also comes with 8GB of storage space, while phantom 3 offers 16GBs of internal memory for storing videos, photos, and other files taken by the drone during flights.
Camera quality Both have 12-megapixel resolution cameras, but phantom 3 produces sharper pictures with less noise compared to phantom 2 after final processing through PhotoShop or similar software.
On the other hand, Phantom 3 has a wider angle lens. This is especially useful when taking photos from above objects, buildings, or even people.
Both drones have pretty much the same camera mounting position on top of the chassis, but the Phantom 2 does not come with a built-in gimbal cam which means you need to buy and install it yourself.
On phantom 3 advanced and professional both camera and gimbal are one piece, so they cost less than phantom 2. You can also remove the camera easily from phantom 3 if you want to use different cameras such as GoPro.
It is very important that your camera is securely mounted onto your drone because jostling around in-flight could cause vibration and blurriness of your final shots - which you don't want.
Are Phantom Drones The Best?
Phantom drones are some of the best drones on the market, and the Phantom 2 and Phantom 3 series both offer a lot of features for drone enthusiasts.
However, phantom 3 is better than phantom 2 because it has more battery life (exactly double) and advanced obstacle avoidance sensors that will help you stay safe while flying your drone.
Both are high-quality drones, but if you are looking for better flight stability and longer flight times in a lighter model, then go for the Phantom 3 Advanced or Professional.
If you need to constantly change camera settings because of different weather conditions throughout the day while flying at longer distances, then choose the Phantom 2 drone instead.
Verdict
After comparing each and every specification of the DJI Phantom 3 vs. Phantom 2, we can conclude that overall, both are great flying machines.
However, if you need a drone that's more stable in flight and offers longer flight times, then go for the Phantom 3 Series, as they really offer better value for money than phantom 2 series models.
On the other hand, DJI Phantom 2 is lighter and has an adjustable camera position, so it's a great choice if you want to capture creative shots from different angles. So it all comes down to what you really want out of your phantom drone.
We hope this article helped you to get an idea about the phantom 2 vs. phantom 3 comparison. If you want to share your feedback regarding DJI Phantom 2 or DJI Phantom 3, then comment below in the comment section.