Drone Laws in Estonia (2023 Updated)
Updated On: February 1, 2023
Estonia is ushering in a new era of technological advancement with the increasing prevalence of commercial drones. Drone use in Estonia has surged over the past few years, particularly within the military, where they are used for surveillance, reconnaissance, and, ultimately, to make Estonians safer.
Beyond providing safety to its citizens through defense applications, Estonian commercial drone operators are finding more inventive uses for this technology.
Examples range from mining and energy exploration operations to home deliveries. That said, Estonian authorities have also been ensuring the growing number of drones flying over the country does not pose any risks by developing regulations that allow users to fly safely with legal considerations.
With regulations still hazy surrounding how drones should be flown, it can be difficult to know your rights when flying one.
In this blog post, we'll discuss all of the drone laws in Estonia, from airspace restrictions to licensing requirements, so that you can stay within the law while enjoying this fascinating technology.
Drone Laws in Estonia (2023)
In Estonia, drone operators must register each of their drones and abide by all related regulations. Failure to do so can lead to serious penalties.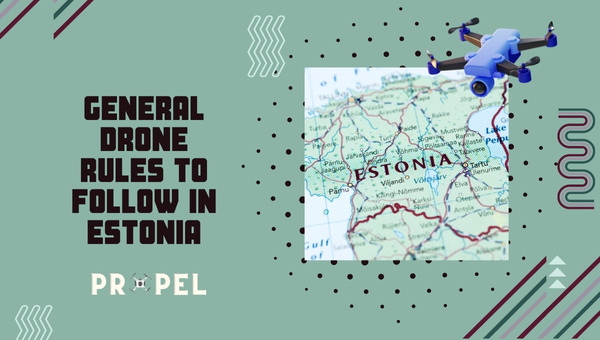 With the Open category, operators can fly their drones up to an astonishing 50 meters (170 feet) above ground or sea level. For those who require higher elevations for their work, there's also a Specific class with a maximum altitude of 120 meters (400 feet). The authority may even provide exemptions to specific categories of Drone operators upon request.
It is essential to remain in visual contact with your drone and always stay no more than 500 meters away.
For everyone's protection, please abstain from flying in the vicinity of residential or populated regions.
To protect our residential districts, we should always maintain a one-kilometer buffer zone to secure safety.
For everyone's safety, an individual must remain at least 500 meters away from any isolated property, people, vehicles, animals, or infrastructure without the consent of those involved.
Keep a distance of eight kilometers from airports and three kilometers from heliports when you're taking to the skies.
Absolutely under no circumstances should a drone be flown at night.
In no way is it acceptable to fly over, in close proximity to, or around military installations, public utility setups, archaeological sites, or any other private and public areas.
Also Read: Updated Drone Laws in Jamaica
Drone Pilot Registration
EU Regulation 2019/947 requires the registration of all UAS Operators prior to flying. The Remote Pilot in charge is obligated to follow all instructions from their Operator and has absolute accountability for each operation they execute.
In OPEN category solo flights, it's common for one individual to assume both roles. With such regulations in place, all travelers are guaranteed a secure journey.
Suppose you meet the eligibility requirements for OPEN registration. In that case, it is mandatory to register UAS operators with a weight greater than 250g and an operational speed of 90km/h or higher, which are also equipped with either a camera or microphone.
Absolutely no exceptions: all operators must register in the SPECIFIC category.
It is imperative to remember that legal entities must register their business operations in the country where they primarily operate, but this registration process can only be completed within one European Member State.
Starting the UAS operator registration process is simple; follow the online instructions, and you will be done in no time. Upon completion, your number remains valid for a span of twelve months but must be renewed annually to remain active.
However, if you wish to opt out of registering altogether, choose not to renew it when prompted at the end of each year.
If you stay up to date with your registration in this system, your existing number should remain valid.
Also Read: New Drone Laws in Massachusetts
Operation Categories in European Union
The European Union has specified three distinct categories of drones, each with its own regulations that need to be strictly followed.
Open Category
If you want a way to fly without special authorization, an "open" category drone is your best bet. Of course, operators still need to adhere strictly to safety regulations set forth by EASA as these drones cannot be used commercially, and their weight must not exceed 25 kg.
The great thing about this option is that there's no need for prior permission; however, it doesn't mean negligence should be taken lightly either.
As Europeans reap the innumerable benefits of open-category drones, their popularity is at an all-time high. These affordable and reliable unmanned aerial vehicles are perfect for hobbyists and business owners alike who need them for anything from recreational use to commercial operations. There's no denying that these fantastic machines provide limitless possibilities.
Drones are far easier to control than unmanned aerial vehicles and will drastically revolutionize the aviation industry.
Despite certain constraints posed by European regulations, it's evident that these soaring contraptions have a great future ahead of them in transportation systems across the globe.
Specific Category
In contrast, the specific category is usually viewed as more restrictive to open airspace, and not all commercial activities are unreserved. For instance, if you want to take pictures or record using a drone, you must get explicit permission from those involved.
To avoid any possible risk of violating regulations in operation, one should consult EASA beforehand for further information on the various restrictions governing use within this sector.
If you're searching for the perfect drone for commercial use, look no further than Lowest Price Drones. Their range of lightweight models weighing between 25kg-150kg requires an EASA permit to take off a hassle-free process that guarantees authorization quickly and conveniently.
Certified Category
It is essential for anyone wishing to operate a certified-category drone in the European Union to consult with EASA and have their unmanned aircraft weigh more than 150kg.
Once EASA approval is secured, drones will be given permission to be commercially used. This authorization also guarantees that any safety regulations set by EASA are followed in order to ensure complete security for all users.
Also Read: All New Drone Laws in Missouri
European Union Aviation Safety Agency (EASA)
Established in 2002, the European Union Aviation Safety Agency (EASA) is an authoritative figure responsible for setting and enforcing aviation safety standards across Europe's whole airspace. The EASA seeks to promote a high level of security while giving ample room for opportunities that allow innovation and growth within air traffic.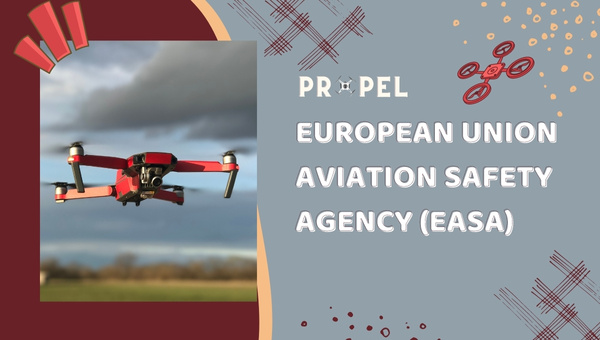 With the utmost priority being aviation safety, EASA has instituted policies that many drones must adhere to, particularly those put into use for commercial purposes such as photography or cargo delivery.
EASA's unique certification for commercial drones is vital since their complexity, as well as the implications of privacy, airspace use, and national security, can have great impacts on businesses. As more and more people turn to using drones in a variety of ways around the world, it is essential that EASA be credited with upholding international drone standards.
Estonia's Civil Aviation Administration (ECAA)
The Estonian Civil Aviation Administration (ECAA) is the governing body overseeing all civil aviation activities throughout Estonia.
It is responsible for licensing aircraft, aircrews, and instructors, maintaining regulations and standards in the aviation industry, managing air navigation services, investigating aviation incidents, and researching airspace optimization.
Under the ECAA's jurisdiction falls both civilian and military aviation operations and any related activities such as rescue operations or mapping out airports for their future construction.
With a focus on safety and efficiency at its core, ECAA ensures that every passenger can enjoy their flight in Estonia with peace of mind knowing that all aircraft have gone through rigorous testing to ensure reliability.
Also Read: All Drone Laws in Maldives
Estonian Transport Administration (ETA)
The Estonian Transport Administration (ETA) is the governmental agency responsible for coordinating the nation's transport infrastructure and services. It is tasked with overseeing, developing, and supervising all transportation laws and regulations and improving safety standards.
This is done by providing air traffic control systems and maritime navigational services, constructing new roads and bridges, establishing improved public transit routes, verifying cargo security protocols, and maintaining a register of all vehicles in Estonia.
The ETA also ensures consistency across all modes of transportation—from cars to planes—and that travelers can access their destinations quickly and safely. In addition, the ETA provides information about traffic conditions to help drivers plan while on the road.
Also Read: Drone Laws in Egypt, Penalties, Registrations
No Drone Zones in Estonia
No Drone Zones are areas in which flying a drone is restricted by law. The restrictions may be enforced for various reasons, including security, cultural or religious sensitivities, privacy, and public safety.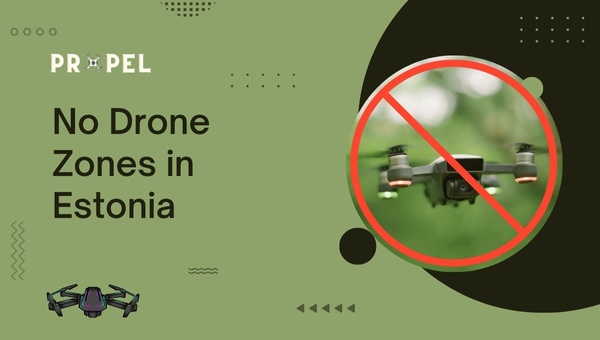 No Drone Zones are typically located near airports and other sensitive infrastructure, such as military bases, governmental buildings, and museums. Areas near prisons or correctional facilities also often become No Drone Zones due to heightened security concerns.
Estonia is one of the many countries implementing No Drone Zones. Estonia's NDZs are designed to protect people and private property, for example, areas within 2 kilometers of Estonia's international airport and close to Estonia's presidential palace from flying helicopters and other aircraft without permission or license.
They recognize that there needs to be regulation regarding the usage of drones as not only could they pose a threat to public safety, but they can also invade individual privacy when photos or videos are taken without consent and distributed publicly.
Know about no-drone zones
To ensure safety, it is essential to know about designated no-drone zones before flying. The most reliable source for this information is the ECAA website, where you can find an interactive map of Estonia's No Drone Zones.
This map outlines the areas that are restricted as well as any other special restrictions made to guarantee public security.
In addition to these maps, several mobile applications and websites are available that list current no drone zones in Estonia and around the world.
These resources provide detailed visualizations of each zone so that pilots can quickly and easily familiarize themselves with the boundaries they must respect while flying.
FAQs
Is it permissible to operate a drone in Estonia?
Yes, it is permissible to operate a drone in Estonia, provided that the operator follows all of the necessary regulations, such as not flying in No Drone Zones.
Are there any special permits required for operating a drone?
Yes, some areas and circumstances have additional requirements for operating drones.
Where can I find information about no-drone zones in Estonia?
The most reliable source of this information is the ECAA website which provides an interactive map outlining Estonia's No Drone Zones and other restrictions.
Conclusion
Estonia has taken great strides in creating regulations that allow drones to be used safely and legally. As long as drone operators adhere to the laws outlined above, they can enjoy this revolutionary technology without legal troubles.
However, it's essential for anyone interested in flying a drone in Estonia to stay up-to-date with the latest regulations, as they are subject to change.
Following these rules will help ensure safety when using drones in Estonia and ensure everybody takes advantage of this growing technology without endangering themselves or others.
We hope that this article was helpful to you. If there's anything else we can do to assist, please leave a comment below and let us know.