Snaptain SP600 Drone: Detailed Review (2023)
Welcome to this review of the Snaptain SP600 drone. Drones have become an increasingly popular hobby, and the SP600 is an excellent option for those looking for an affordable and beginner-friendly option.
With its various features, such as altitude hold, 3D flip, and one-button takeoff and landing, this drone is easy to operate and fun to fly. In this review, we'll look closer at its design, performance, camera quality, and overall value to help you decide if the Snaptain SP600 is a suitable drone for you.
Snaptain SP600 Specifications
| Specs | Details |
| --- | --- |
| Flight time | 15 minutes |
| Range | 60~80 meters |
| Camera | 720p HD Camera FOV 120° |
| Speed | 3.5 m/s |
| Dimension | 12.6 × 12.6 × 5.1 Inch |
| Weight | 698 grams |
| Battery | 3.7 V 1600mAh |
| Charging time | 3.5 hours |
| Advanced features | Headless mode, One Key takeoff, landing, Altitude Hold, 3D Mode, Follow me, Voice & Gesture Control, Trajectory planning, Optical flow positioning |
Snaptain SP600 Flight time
The 15-minute flight time of the Snaptain SP600 is impressive for its price point and class. It allows more time in the air to capture photos and videos, giving users more opportunities to get the perfect shot.
However, it's important to note that various factors, such as flying conditions and wind speed, can affect flight time. Bringing extra batteries or investing in a multi-battery charging hub is always a good idea to extend the flying time.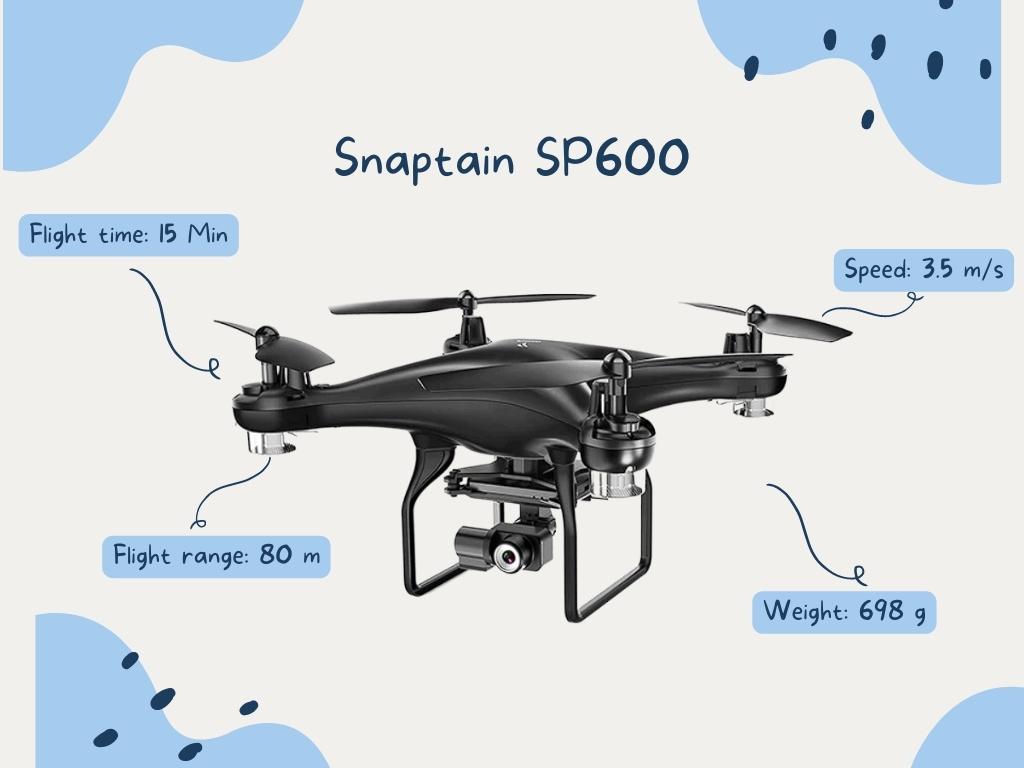 Snaptain SP600 Flight Range
The range of the SP600 is 60~80 meters, which is decent for indoor and outdoor flying. However, it's essential to be aware of the drone's position and stay within its range to prevent disconnection and potential crashes.
It's always a good idea to do a test flight and familiarize yourself with the drone's capabilities and limitations before attempting more advanced flights. Additionally, it's also important to remember that the range can be affected by environmental conditions such as wind and interference from nearby electronic devices. With proper care, the SP600 can easily reach its maximum flight range!
Snaptain SP600 Camera
The 720p HD camera of the SP600 is suitable for beginner-level photography and videography. The 120-degree field of view is wide enough to capture a decent amount of scenery, and the camera can take photos and videos.
While the camera is not the highest quality available, it's still a great feature for beginner drone pilots who are just starting to explore aerial photography and videography. Six different shooting modes, including burst and time-lapse, allow you to get creative with your shots. The SP600 also has a mobile app for capturing photos and videos from your smartphone or tablet.
You may also like, Snaptain S5C Drone Review: Pros, Cons, Specs, & More!
Snaptain SP600 Speed
The maximum speed of 3.5 meters per second is relatively slow compared to other drones on the market. However, this is good for beginners as it allows for more control and easier maneuverability. Slow speeds also give pilots more time to react and adjust, reducing the risk of crashes and accidents.
Additionally, the slower speed of 3.5 meters per second helps to conserve battery life, enabling longer flight times and greater overall efficiency. The slow speed also allows for more precise navigation and better access to tight spaces.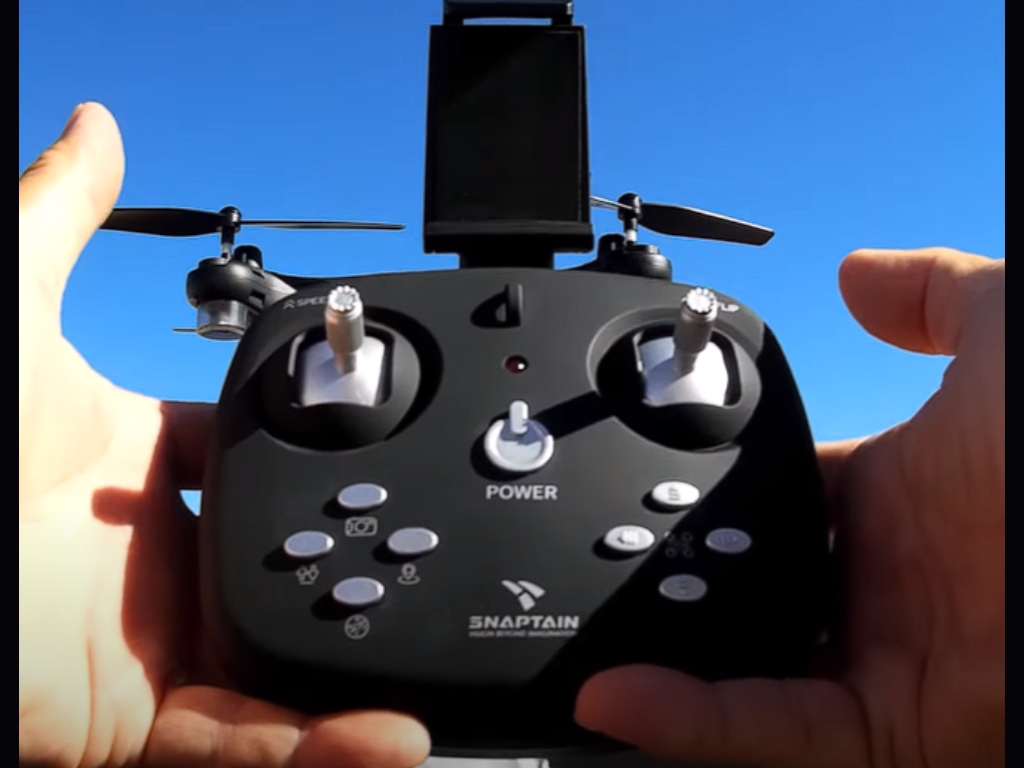 Snaptain SP600 Size and Weight
The dimensions of the SP600 are 12.6 × 12.6 × 5.1 inches, making it compact and easy to transport. The drone's small size makes it more agile and easier to control, especially when flying indoors or in tight spaces. It's an excellent choice for those who want to take their drone with them and capture stunning footage on the fly.
At 698 grams, the SP600 is slightly heavier than some other drones in its price range. However, it's still lightweight enough to be easily carried around and flown without any issues. The drone's weight also gives it more stability and makes it easier to control, especially in windy conditions.
Snaptain SP600 Battery
The Snaptain SP600 battery is designed to provide an extended flight time for your drone. It has a high-capacity 1600 mAh-Po battery that offers up to 15 minutes of flight time on a single charge. The smart LED battery capacity indicator allows you to quickly and easily check the remaining power before each flight, ensuring you don't run out of power mid-flight.
The battery also features overcharge and discharge protection, so you can rest assured your drone is safe from any potential damage due to overcharging or discharging the battery.
Snaptain SP600 Charging time
The 3.5-hour charging time of the drone's battery is a bit longer than some other drones in its price range. However, the longer flight time makes up for this longer charging time, and it's a small price to pay for the amount of fun and enjoyment you'll get out of flying the drone.
Additionally, you can purchase additional batteries on hand for longer flights. This will ensure that you don't have to wait too long between flights and can keep the fun going.
Advanced features of Snaptain SP600
Snaptain SP600 is a popular drone model with various advanced features that make it stand out from the rest. In this article, we will discuss some of the advanced features of Snaptain SP600 and how they can enhance your flying experience.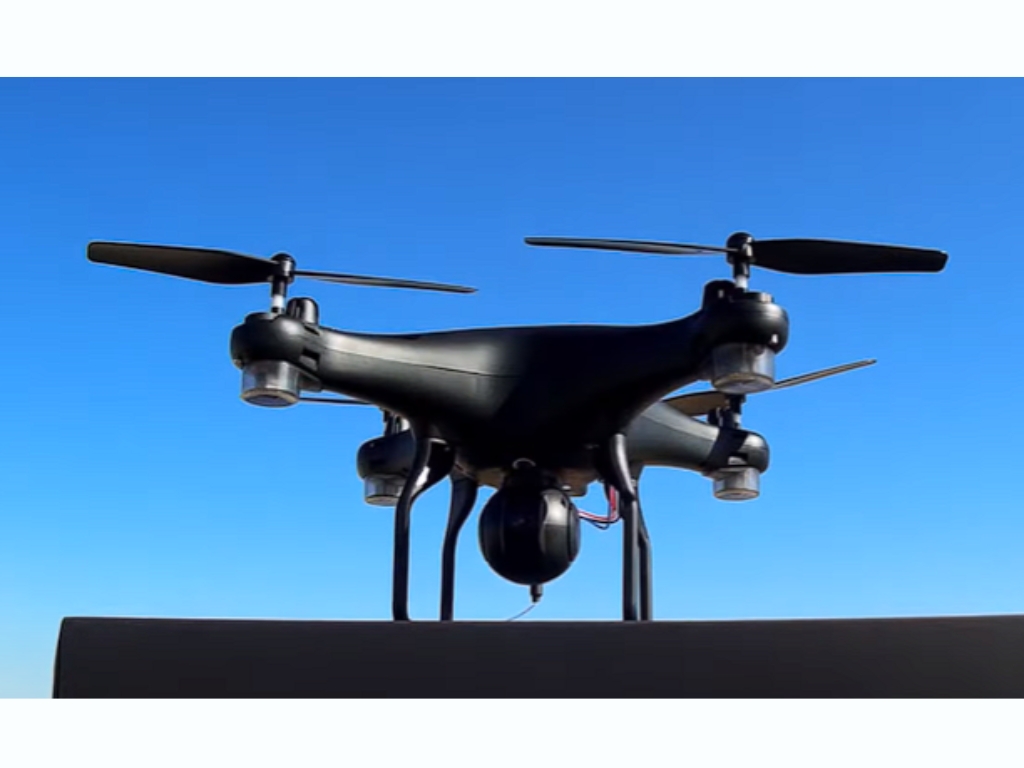 Gesture Control: The Snaptain SP600 comes with a gesture control feature that allows you to control the drone with simple hand gestures. This feature is perfect for taking selfies or capturing footage in difficult-to-reach places.
Voice Control: The voice control feature allows you to control the drone with your voice. You can give commands like "take off," "land," or "go left" to the drone without having to use the controller.
Trajectory Planning: The trajectory planning feature allows you to draw a path on the screen, and the drone will follow that path automatically. This feature is perfect for creating cinematic shots or capturing footage of a moving object.
Optical Flow Positioning: The optical flow positioning feature uses a camera to detect the ground and maintain the drone's position. This feature is perfect for indoor flying or in areas with weak GPS signals.
360° Flips: The Snaptain SP600 can perform 360° flips with a single button press. This feature is perfect for showing off your flying skills or adding some flair to your footage.
One-Key Return: The one-key return feature allows the drone to return to its takeoff point with a single button press. This feature is perfect for beginners still learning to control their drones.
Headless Mode: The headless mode feature allows you to fly the drone without worrying about its orientation. This feature is perfect for beginners who are still getting used to flying a drone.
Pros and Cons of Snaptain SP600
The Snaptain SP600 is a popular drone model that has received much attention from drone enthusiasts. We will discuss the pros and cons of the Snaptain SP600 to help you decide if it's the right drone for you.
Pros
Easy to Fly
Lightweight and Portable
Good Camera Quality
Advanced Features
Affordable
CONS
Short Battery Life
Limited Range
No Gimbal Stabilization
Final Thoughts
Overall, the Snaptain SP600 is an excellent drone for beginners and casual users looking for a user-friendly and affordable option. It has advanced features such as gesture control, voice control, trajectory planning, and optical flow positioning, making it a versatile and fun drone to fly.
We think this product is a great option for beginners just getting into flying drones. It's easy to use, has some advanced features, and is affordable. However, more experienced pilots may want to consider other options with longer battery life and range.
Thank you for reading our article on the Snaptain SP600. We hope that this information helped you make an informed decision about whether or not this drone is suitable for you.